Ruido Fest's 5th anniversary is here! This year a wide variety of sponsors and community partners will be bringing unique, fun experiences to our new home in Chicago's beautiful Union Park. You can get a sneak peek below.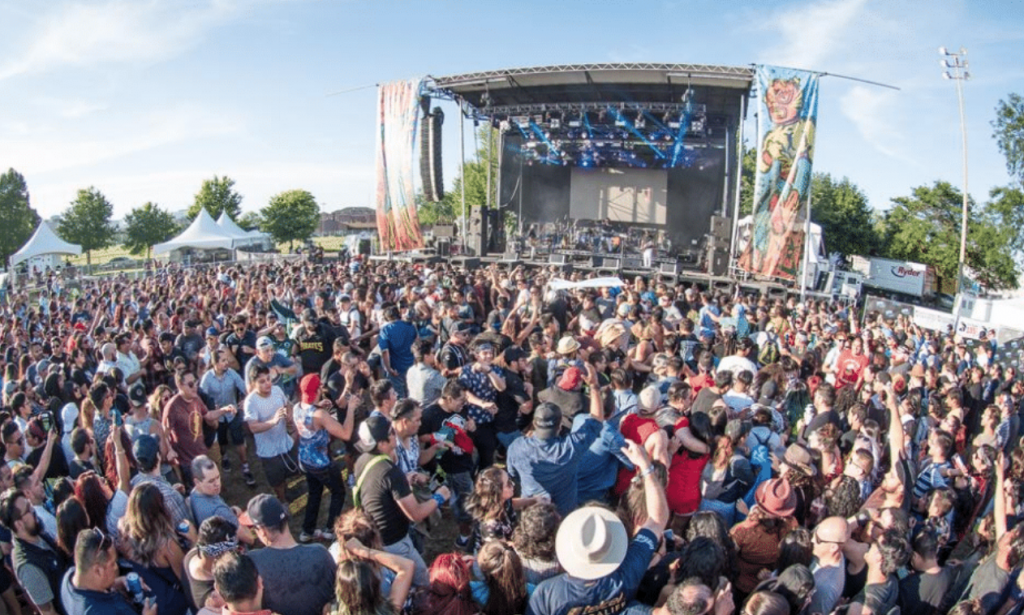 MCDONALD'S
This year's sponsor, the MHOA (McDonald's), invites you to stop by the McDonald's area to cool off with samples of the new McDonald's slushies and test your throwing skills on the McDonald's target wall for your chance to win McDonald's swag. ¡Los esperamos ahí!
XFINITY
Through the Discover Chicago experience, Xfinity will be hosting a variety of interactive engagements including: a free WiFi connection, a touch-screen kiosk, virtual puppies or spin their own DJ track, as well as a photo booth to place themselves in famous Chicago-based TV scenes!
WHITE SOX
The Chicago White Sox will be present at Ruido Fest where festival attendees can have the opportunity to win select prizes from a collection of various Los White Sox branded items. Ruido Fest attendees can also help send our team to the All-Star game in Cleveland by visiting whitesox.com/vote. Fans will also receive an additional giveaway from the Los White Sox booth if they show Chicago White Sox representatives their vote!
ILLINICARE
IlliniCare Health will be hosting a series of fun fitness and health activities each day for a chance to win a VIP upgrade! Activities will include hula hooping, jump rope, and dance sessions. They'll be closing out the weekend with a "Wellness Wind-Down" providing fruit-infused water and healthy snacks.
CREMO
The Cremo Grooming Experience is coming to Ruido Fest! Stop by for your FREE haircut or FREE beard trim & sum next level grooming products #barbershoponwheels #mobilebarbershop #CREMO #cremoroadtrip
COMMUNITY PARTNERS
We have had the pleasure of working with a wonderful group of community partners this year; including the Gene Siskel Film Center, the National Museum of Mexican Art, Yollocalli, the Latino Cultural Center, Pilsen Fest, Mujeres Latinas, Voto Latino, HeadCount, and OurMusic MyBody. Make sure you take the time to stop by the community tent at Ruido Fest this year to learn more about each organization.
YOLLOCALLI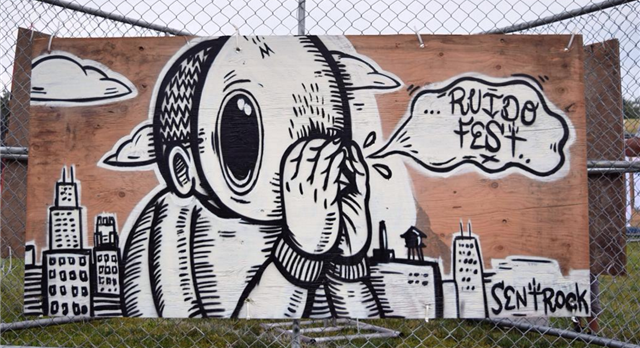 The Yollocalli Arts Reach is a youth group run by the National Museum of Mexican Art! Their talent group of artists will be creating live art for your enjoyment at the festival.
OUR MUSIC MY BODY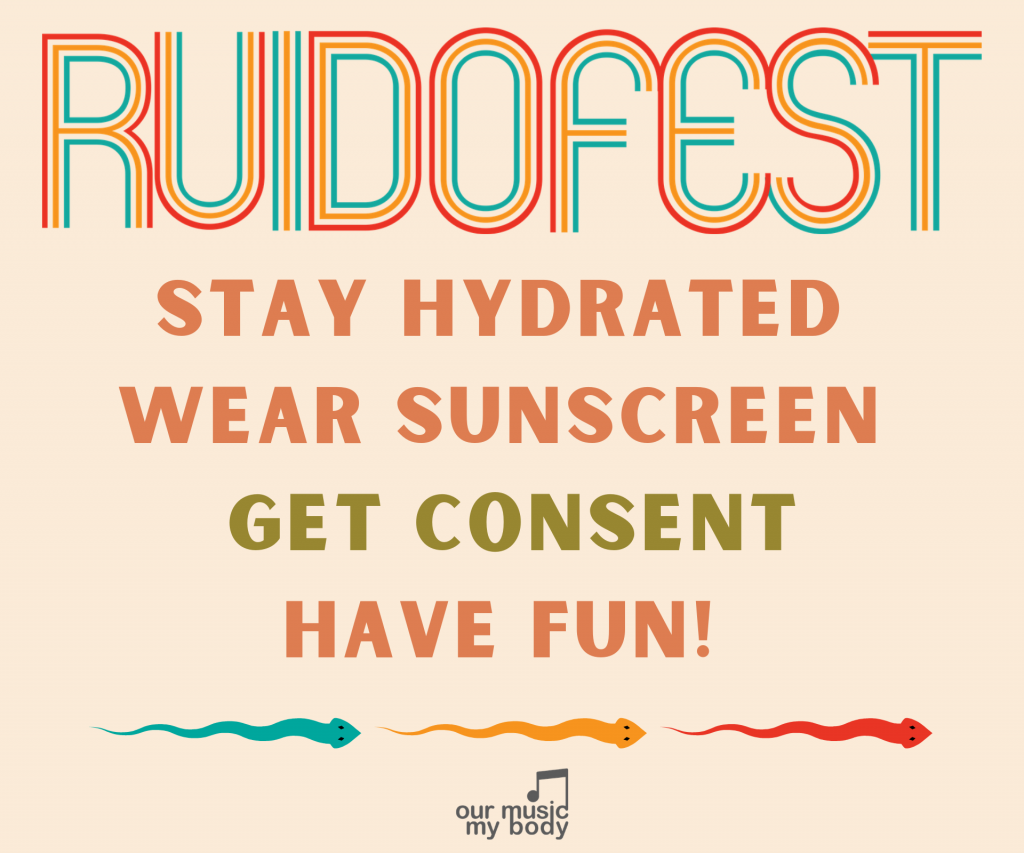 Ruido Fest has zero tolerance for sexual harassment at the festival; everyone has the right to enjoy it in a safe, comfortable, and consensual manner.
"OurMusicMyBody is a campaign to raise awareness about sexual harassment in the music scene. We believe everyone deserves to feel comfortable and safe when at a concert/festival. We work with festival and venue staff, musicians, and music fans to create fun and consensual music experiences for all."
MERCH
The exclusive, 5 Year Anniversary, commemorative Ruido Fest merch is designed by Internationally renown Mexican illustrator and street artist smitheone.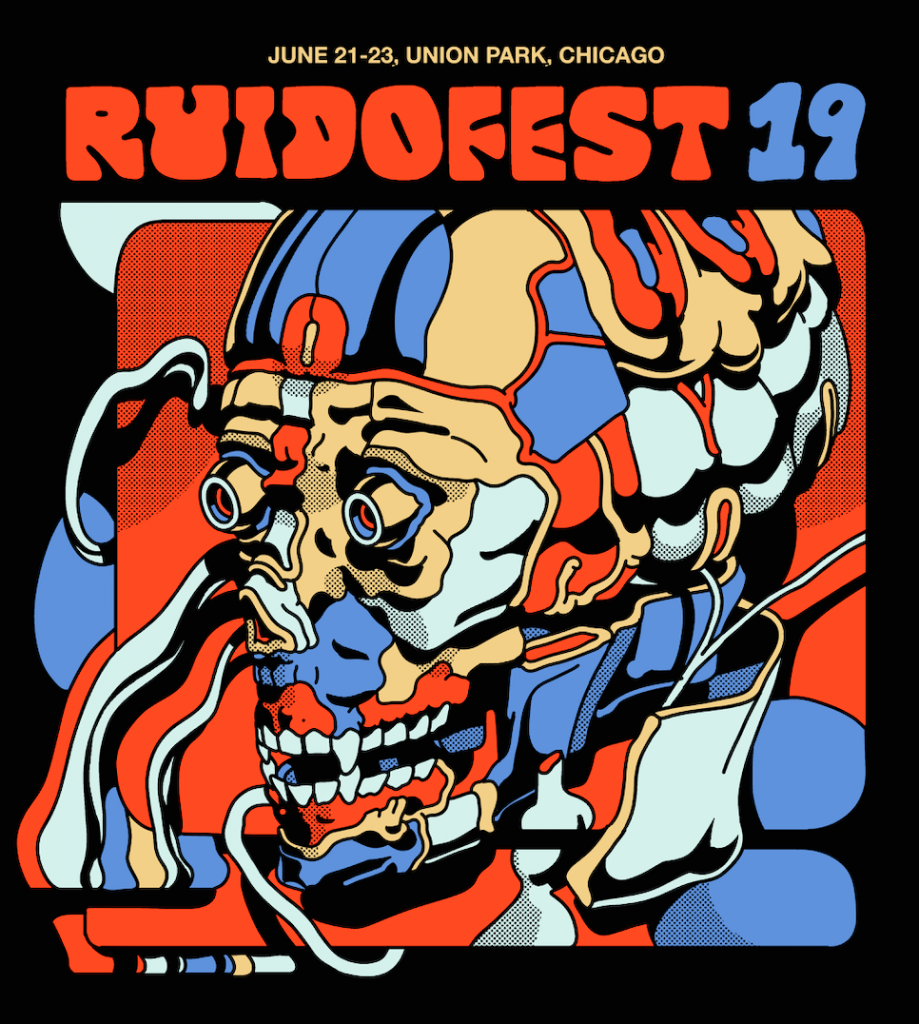 TOYOTA MUSIC DEN
Check out Toyota's awesome addition to the Ruido Fest lineup! They have curated their own music den, where you can watch performances from talented, up and coming artists; including Kablito, Nina Dioz, Jesse Baez, Loyal Lobos, The Red Pears, Marron, Danileigh, Camila Luna, Clubz, and Girl Ultra.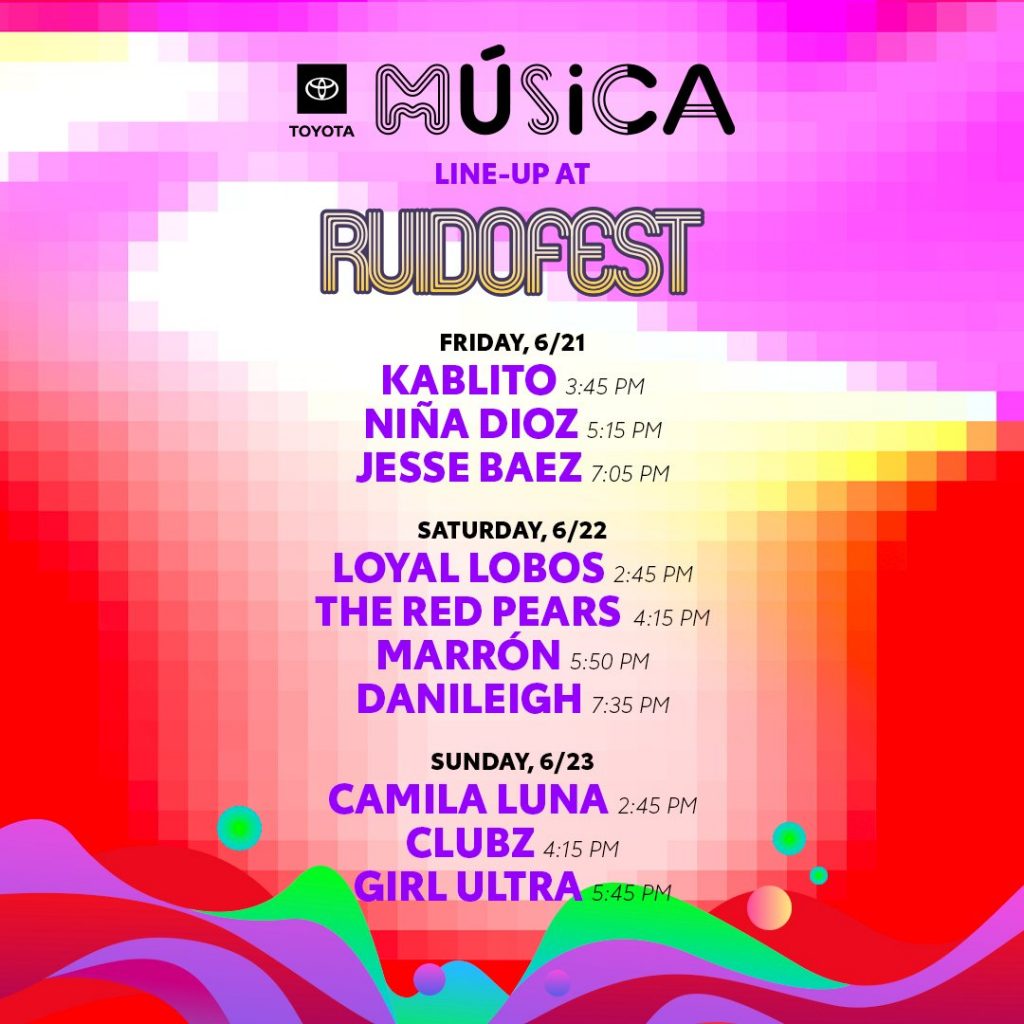 LUCHA LIBRE
Want to cheer on your favorite wrestler? Then our Lucha Libre is for you!